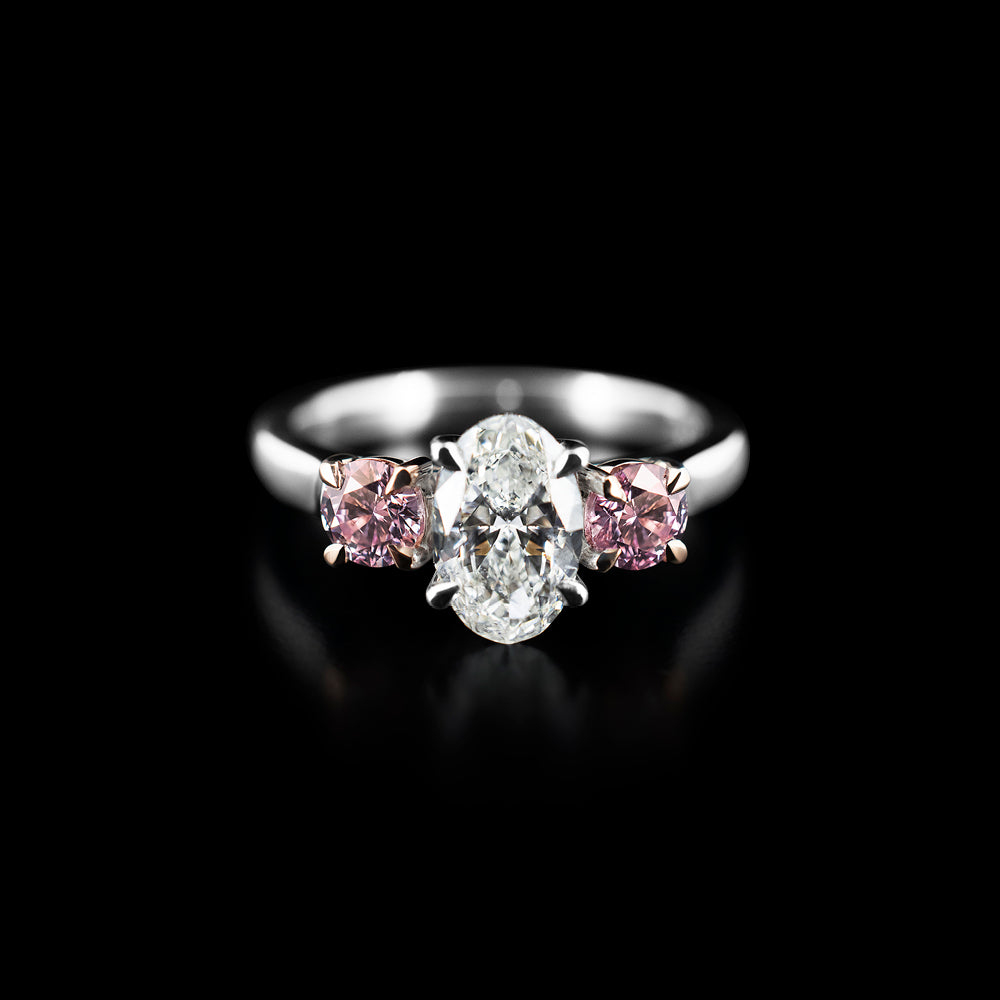 Pink Diamond Trilogy Ring
Description

Introducing the Trilogy Pink Diamond Ring - a stunning piece of jewellery that will take your breath away! This exquisite engagement ring is a perfect choice for anyone looking for a timeless and elegant design that will last a lifetime.

Crafted from 18ct white gold, this ring features three beautiful diamonds that are sure to make a statement. The centre stone is an oval-cut diamond, which is flanked by two round pink diamonds. These pink diamonds are a unique and eye-catching addition to the ring, and they perfectly complement the classic style of the oval-cut diamond.
Order Timeframe

Discover the world of bespoke luxury with our exclusive Bespoke Vault Range. Each piece in this range is custom designed to meet your unique style and taste, making them truly one-of-a-kind. Contact us for more information and start your journey towards owning a bespoke piece.
Warranty
Delivery & Returns

We are pleased to offer free delivery for our valued customers in Australia. Your order will be shipped express via Australia Post and will be fully tracked and insured for added security and peace of mind.
Size Guides

Download our Ring Size Guide and follow the steps to find the perfect ring size.

Download our Bangle Size Guide and follow the steps to find the perfect bangle size.
More About This Collection
The Beskpoke Vault showcases a collection of past jewellery creations. BrownHaus Jewellery specialises in creating exquisite bespoke jewellery that is truly one of a kind.

At BrownHaus, we take pride in working with each customer to create a unique piece that is tailored to their individual style and personality. Our expert team of jewellers will bring your vision to life, creating a timeless piece of jewellery that you can cherish for years to come. Whether it be an engagement ring, a special anniversary gift or a new addition to your jewellery collection, our bespoke designs are sure to add a touch of elegance to any occasion.
Have questions?
Get in touch with us at any time.